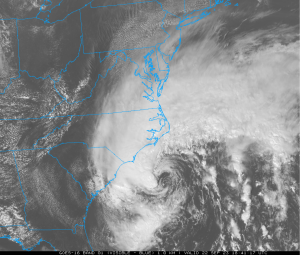 An intensifying storm system over the southwestern Atlantic Ocean will be quite impactful during the next couple of days all the way from the Carolinas to Long Island. Heavy rain, powerful winds, beach erosion and coastal flooding are all on the table from this storm as it pushes in a general north-to-northwest direction during the next couple of days and even isolated tornadoes cannot be ruled out. This system will take on tropical characteristics as it heads towards an early Saturday landfall in eastern North Carolina – potentially intensifying into a category 1 hurricane. Later this weekend, as the storm reaches the Chesapeake Bay region, it will slow down and begin a turn from the general northward direction to northeast. It'll likely then cross the Delaware Bay and heads toward southern New Jersey in a weakened state and its slow pace will result in rainfall across the Mid-Atlantic region all the way into later Sunday.
This system is coming at an all-important time in big league baseball where the final push to the playoffs continues in locations like Philadelphia (#1 Wild Card) where the Mets are in town for a weekend series and in New York City where the Yankees are playing Arizona (#2 Wild Card). The games at both locations are in jeopardy for Saturday as rain, wind from the tropical storm will make it into the Mid-Atlantic region by this time…look for doubleheaders on Sunday.
In terms of the Home Run Forecast Index (HRFI), a persistent and strong onshore flow of air (E-NE winds) over the next couple of days will keep it on the cool side in Philly and NYC (and DC as well where the Nationals play). As a result, the HRFI will be held down to the lowest levels possible during some hours (i.e., 1's and 2's) tonight and on Saturday – indicative of unfavorable conditions for the ball to travel.
Meteorologist Paul Dorian