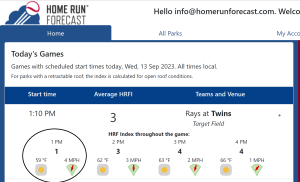 This snippet comes from the Home Run Forecast premium site (premium.homerunforecast.com) with the HRFI of "1" circled at 1pm.
The Minnesota Twins played a day game today (Wednesday, September 13th) at Target Field in Minneapolis and the temperatures started off in the 50's with the wind blowing in from right center field. This kind of weather resulted in an Home Run Forecast Index (HRFI) of 1 at the start of the game and this is the first time in quite awhile that the HRFI was at the lowest levels possible indicating weather conditions started off in this game as unfavorable for the baseball to travel. While it did warm up at today's game in Minneapolis and the HRFI moved into "moderate" territory from "low", this was likely a harbinger of things to come across parts of the nation. Indeed, there is going to be an extended stretch of  fall-like weather in the Midwest and Mid-Atlantic regions featuring cool overnight temperatures and comfortable daytime conditions.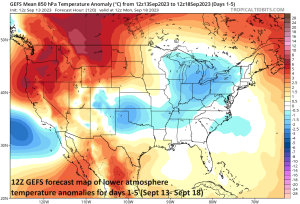 Temperatures will average below-normal (shown in blue) over the next week or so across much of the Midwest and Mid-Atlantic regions (map courtesy NOAA, tropicaltidbits.com)
The HRFI should respond accordingly during this upcoming fall-like pattern with numerous "moderate" or even "low" category type games in the Midwest/Mid-Atlantic.  This upcoming weather pattern will effect numerous MLB stadiums over the next week or so including those in Chicago (2), Cleveland, Cincinnati, Minneapolis, Philly, Pittsburgh, Baltimore, Washington, and New York City. Boston may also turn generally cooler over the next week or so; however, they have bigger issues with regard to the weather. Hurricane Lee remains a "major" category 3 storm and is likely to have a big impact this weekend across eastern New England after it climbs to those higher latitudes. In Boston, winds will very likely become quite strong and rain can become quite heavy.  Fortunately, the Red Sox are scheduled to play in Toronto this weekend so the weather will not impact their games on Friday, Saturday and Sunday.
Meteorologist Paul Dorian