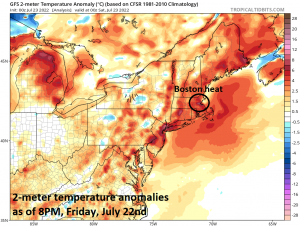 If you had the "Over" of 30 runs at Fenway Park for Friday night's game between the Blue Jays and Red Sox – you won as 33 runs were scored! In an amazing game, Toronto Blue Jays set an all-time franchise record with 28 total runs in a game in which they beat the Red Sox, 28-5, on a hot and humid night with temperatures way above normal (see circled area on map). Toronto's 28 runs – most ever allowed in a single game by the Boston franchise – was two short of the modern big league record by a team, set by the Texas Rangers against the Orioles on August 22nd, 2007. The all-time mark for a team is 36 for the Chicago Colts against the Louisville Colonels in 1897. Toronto's 25 runs through five innings tied a record that goes all the way back to the Chicago Cubs in 1922. The game began with temperatures of 91 degrees, a light wind blowing out to RF, and the Home Run Forecast Index (HRFI) of 10 – the highest level possible.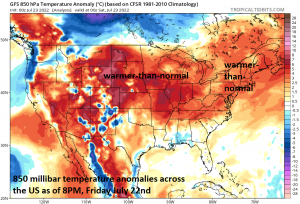 New England was not the only hot and humid site for a big league game on Friday night. Hot and humid weather which has been largely confined to the central and southern states in recent weeks, surged into the Mid-Atlantic and Northeast US earlier in the week.  In fact, this is the longest and most intense heat wave of the summer for the northeastern part of the nation.  Numerous games on Friday night featured very high average HRF Index values of 9 or 10 suggesting the weather was very favorable for baseballs to carry a longer distance.  In Philly, the HRF index was a 10…17 total runs were scored between the Cubs and Phillies with 6 home runs.  In Cincinnati and Baltimore, the average HRF Index was 9 and there were 14 and 13 runs respectively in each park with 4 homers in each game.
The hot and humid weather will continue through the weekend in much of the nation so expect additional games with high Home Run Forecast Index values on both Saturday and Sunday.
Meteorologist Paul Dorian