…Home Run Forecast Index will be displayed for this special occasion and generated for the "Field of Dreams" stadium-specific location, click here for the latest: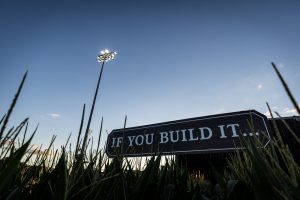 (Photo courtesy CBS Sports)
For the second year in a row and the second time in history, the state of Iowa will host a big league baseball game on Thursday in the town of Dyersville. The Chicago Cubs and Cincinnati Reds will play the second edition of the "Field of Dreams" game in a tribute to the iconic 1989 film "Field of Dreams". The dimensions of the field used in the movie – now a prominent tourist destination in eastern Iowa – aren't appropriate for big league baseball; consequently, another field was constructed nearby which was used in last year's game and will be used in the second edition on Thursday night. The stadium that was built for the special "Field of Dreams" game seats around 8,000 fans. Last year's game turned out to be a slug fest between the Chicago White Sox and New York Yankees with the game decided by a game-winning home run and the White Sox prevailing, 9-8. That game turned out to be the most-watched regular season game on any network since 1998.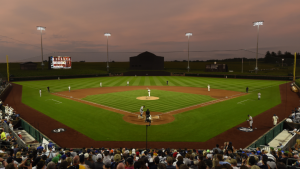 (Photo courtesy Getty Images, CBS Sports)
As a special treat for baseball fans, the Home Run Forecast (HRF) Index will be displayed on the homerunforecast.com web site for Thursday night's game in Dyersville, Iowa.  The weather will be quite favorable on Thursday with sunshine during the day and comfortable temperatures at night for the game.  The temperatures are likely to peak around 80 degrees in the afternoon and then fall through the 70's during the evening hours with a likely "moderate-level" Home Run Forecast Index value of 5 at the start of the game (6:15 PM local time).  The HRF Index is calculated on an hourly-basis using stadium-specific weather conditions which, in this case, will be for "Field of Dreams" location in Dyersville.  The HRF Index ranges from 1-10 where 1 indicates the least favorable weather conditions for the ball to travel and 10 the most favorable.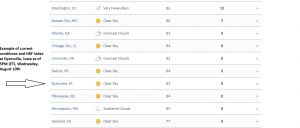 One final note, the "Field of Dreams" game on Thursday night may have to satisfy baseball fans for two years as there is a chance that the special event will be skipped in 2023 due to construction at the site of additional youth softball and baseball complexes.
Meteorologist Paul Dorian