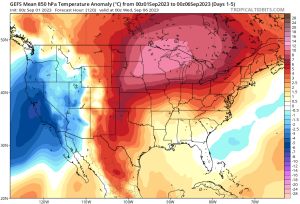 Temperatures will climb to well above-normal levels for the next 5-days (Sept 1- Sept 5) [Map courtesy NOAA, tropicaltidbits.com]
An expansive and strong high pressure system will control the weather across the eastern two/thirds of the nation for the next several days and this includes right through the upcoming long Labor Day weekend. While the temperatures across the East will be quite comfortable to end the work week on Friday, they'll start to climb this weekend. In fact, temperatures by early next week are likely to peak well up in the 90's in many places across the eastern 2/3rds of the country with plenty of sunshine continuing on a daily basis as high pressure remains in control. The only exception to the very warm weather pattern will be the western US including California where some cooler-than-normal conditions are likely in the near-term.
As a result of the upcoming very warm weather pattern, the Home Run Forecast Index (HRFI) will no doubt climb to its highest levels on the 1-10 scale in numerous games. Expect to see several "9's and 10's" beginning on Saturday, September 2nd, and then an explosion of 10's is possible on Sunday, September 3rd when the majority of the games are daytime.  The high HRFI values should continue well into next week across much of the nation – indicative of very favorable weather conditions for the baseball to travel.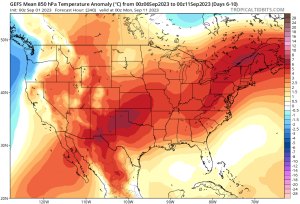 Temperatures will remain at well above-normal levels across much of the nation in days 6-10 (Sept 6-Sept 11) [Map courtesy NOAA, tropicaltidbits.com]
Meteorologist Paul Dorian