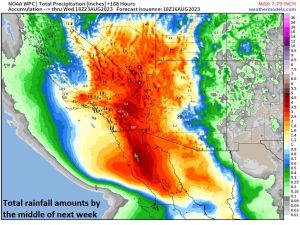 (Map courtesy weathermodels.com (Dr. Ryan Maue, Twitter), NOAA)
There is a growing threat for significant amounts of tropical moisture to flow northward into southern California later this weekend and early next week all associated with an intensifying tropical storm named "Hilary".  This system could very well intensify into hurricane status and its moisture can bring significant rainfall to other parts of the SW US including Arizona and Nevada. In addition to the potential for flooding type rainfall, the risk is on the table for damaging wind gusts across portions of the SW US depending on the ultimate track of TS Hilary.  Whether or not this system actually pushes over land, copious amounts of moisture will likely flow northward into California and Arizona and Nevada as well. This is not an unprecedented type of weather event for SoCal, but it could turn out to be the most impactful tropical cyclone since September, 1976 (Kathleen).
The potential for a tropical cyclone to impact significantly the SW US in coming days is not the only weather story of interest and concern. High pressure ridging will intensify over the central states by the weekend and this will bring hotter-than-normal weather to the Plains which may extend for a few days into the Great Lakes and Midwest.  There is even a chance the hot weather pushes eastward by next Monday into the Mid-Atlantic states, but, if so, it would only be a one or two day event as comfortable air will likely be ushered into the northeastern states by Tuesday of next week following the passage of a strong cool front.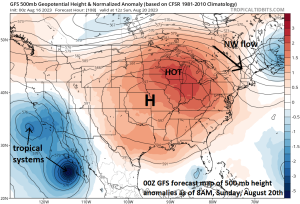 (Map courtesy tropicaltidbits.com, NOAA)
In terms of the possible weather effects on baseball and on the Home Run Forecast Index (HRFI), certainly if flooding type rains take place in southern California later this weekend and early next week, it would likely impact home games in Los Angeles (Dodgers and Angels) and in San Diego where the Padres are scheduled to play on Sunday, Monday and Tuesday.  With the copious amounts of clouds expected, the HRF index and overall temperatures would likely be somewhat diminished in southern California early next week, but that, of course, would take a back seat in importance to the actual weather conditions which may be quite problematic. In the central US, Great Lakes and Midwest, a hot spell this weekend and early next week could result in very high HRF Index values suggestive of very favorable weather conditions for baseballs to travel in places like St. Louis, Chicago, Minneapolis and Kansas City.
Meteorologist Paul Dorian