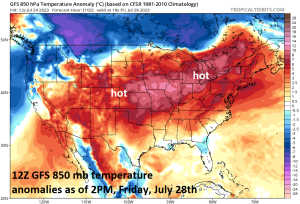 Hot weather has dominated the scene across the southwestern states in recent days, but it is about to expand to the north and east in a significant way. In fact, the hottest weather of the summer season so far is headed to the Mid-Atlantic region and Northeast US for the Wednesday, Thursday and Friday time period. The hot weather can extend into Saturday, but it looks like a cool front will approach that part of the country and a transition back to cooler conditions should take place for the second half of the upcoming weekend.
Temperatures by Wednesday afternoon should reach the lower-to-middle 90's in much of the I-95 corridor from DC-to-Boston and the hottest day may turn out to be Friday when, for example, the DC metro area can flirt with the 100 degree mark…something it hasn't done since August 15th, 2016.  This upcoming hot stretch of weather will be even more intense "relative-to-normal" across the center of the nation with temperatures as much as 15 degrees above normal for the latter part of July.
The impact of this expanding heat wave will be quite noticeable with respect to the Home Run Forecast Index which should climb to the highest levels possible in much of the nation during the second half of the week.  Given the expected hot weather conditions across much of the nation later this week, the favorability factor for baseballs to travel should be very high aiding in the ability to hit home runs and to score lots of runs.
Meteorologist Paul Dorian