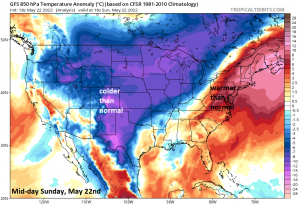 For the first time this season, hot weather has affected baseball games all the way from the Midwest to the east coast and it had an impact on offense this weekend.  The very warm weather began in the Midwest on Friday night and winds were blowing out in Wrigley Field…perfect conditions for the ball to travel.  The "Home Run Forecast" index was 9 out of 10 and in the "high" category for the Cubs game on Friday night versus the Arizona Diamondbacks and the result was an offensive explosion with 16 total runs scored. More impressively, an amazing 11 home runs was hit by both teams which tied the all-time record at Wrigley Field for the most home runs hit in a single game – two short of the record, which was set by the Diamondbacks and Philadelphia Phillies in 2019.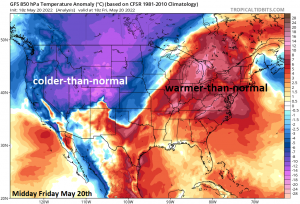 The heat reached the east coast on Saturday and Sunday with highs in the 90's in many parts of the Mid-Atlantic/Northeast US.  In Pittsburgh on Sunday, May 22, the "Home Run Forecast" index was in the high category (8 out of 10) and the game between the Bucs and Cards featured another offensive explosion.  In this game, 22 total runs were scored with 18 of then by the Cardinals and future hall-of-famer Albert Pujols added two more to his career totals. The game was so lopsided in favor of the Cardinals, catcher Yadier Molina pitched for the first time in his career just to "save" the arms of the relief pitchers.
On the other side of the table, much colder-than-normal weather continued this weekend in the western US. In fact, accumulating snow fell in Colorado this weekend (e.g., 20″ at Cripple Creek) and temperatures in Denver began the day on Sunday in the 30's. The game between the Mets and Rockies featured some chilly weather with the "Home Run Forecast" index in the low category as a 3 and the offense was stymied with just two total runs scored as the Mets won 2-0.
Meteorologist Paul Dorian