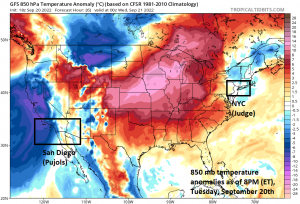 The chase for history continues tonight for Aaron Judge in New York City as the Yankees play at home against the Pirates and for Albert Pujols in San Diego as the Cardinals play against the Padres.  Aaron Judge has hit 59 home runs and is just two shy from tying Roger Maris for the all-time Yankees and American League single-season record of 61.  Babe Ruth is second on the all-time Yankees single season list having hit 60 home runs in 1927.
On the other coast, Albert Pujols will renew his chase for 700 home runs which would make him only the 4th player ever to reach that milestone.  Pujols who currently has 698 home runs is behind Barry Bonds at 762, Hank Aaron with 755 and Babe Ruth who ended his career with 714 home runs. Pujols just recently passed Alex Rodriguez to climb into the 4th place position on the all-time career home runs list.
The weather conditions will be somewhat more favorable for Aaron Judge to hit home runs tonight in the Bronx as compared with Albert Pujols who will play in cooler-than-normal conditions in San Diego.  While the Bronx is pretty close to normal for tonight's game temperature-wise, much of the west coast including San Diego is slightly below-normal for this time of year.  The Home Run Forecast Index is reflecting the somewhat more favorable weather conditions for Judge in the Bronx versus Pujols in San Diego with moderately high values in New York for tonight's game and moderately low values in southern California.