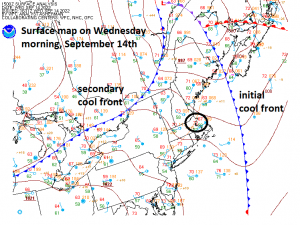 Aaron Judge hit his 56th and 57th HRs on Tuesday night in Boston as the Yankees defeated the Red Sox in 10 innings by a score of 7-6. This leaves Judge just four home runs shy of tying Roger Maris' American League single-season record. Judge is currently 20 home runs above anyone else in either league in terms of home runs with Kyle Schwarber of the Phillies in 2nd place with 37. According to Elias Sports Bureau, this is the first time a big league player has finished a day with a lead of 20 or more home runs since the final day of the 1928 season when Babe Ruth led Jim Bottomley and Hack Wilson by 23 homers.
The Home Run Forecast Index (HRFI) was high on Tuesday night at Fenway Park with a value of 8 throughout the game indicative of rather favorable weather conditions for hitting home runs and for the ball to travel.  Indeed, with a light wind blowing out to LF, there were 13 total runs scored in the game and 6 HRs were hit including the two by Aaron Judge of the Yankees. A cool front passed through the region last night and westerly winds today were quite gusty with drier air moving in and dew points generally in the very comfortable 50's.  A secondary cool front will pass through the region this evening ushering in a true taste of fall for the next couple of days and late lows are likely to be well down in the 50's in the Boston metro region.  For tonight's game, the weather will be quite favorable for hitting the long ball at the start with a relatively high HRF Index likely, but with the influx of increasingly cool air, overall conditions are likely to become less favorable late in the game with the HRF Index perhaps dropping into the "moderate" range.
After an off day on Thursday, Aaron Judge and the Yankees will travel to Milwaukee for 3 games beginning on Friday night.  As far as the weather goes, it will be on the warm side for all three games with daily highs generally in the low-to-mid 80's. The weather will also be unsettled with the chance of showers and thunderstorms on all three days and this raises the possibility that Milwaukee's retractable roof could be utilized if the timing of any potential rain becomes an issue.
Keep track of the HRFI for each of Aaron Judge's remaining games this season as well as for Albert Pujols of St. Louis as both players close in on historic accomplishments.
Meteorological Paul Dorian