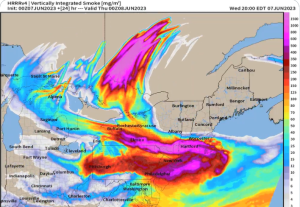 A forecast map for early this evening features smoke once again in much of the Mid-Atlantic region and Northeast US. (Map courtesy NOAA)
In Tuesday's night Phillies/Tigers game played at Citizen's Bank Park in South Philly, Bryce Harper hit a tremendous shot to left center field that looked for sure like it would leave the park.  However, the wind was blowing in from left center field and the ball died on the warning track much to the displeasure of Harper who threw his helmet in disgust after returning to the dugout.  The game was played with hazy, smoke-filled skies as was the case in New York City with the Yankees and White Sox.
The overall weather pattern that is pushing smoke into the northeastern states from Quebec, Canada has two important factors that are limiting the levels of the Home Run Forecast Index (HRFI) in places like Philadelphia and New York City.  First, a northwesterly flow of air is persistent in this pattern bringing the smoke to the northeastern US from southeastern Canada. Second, the air is very dry with unusually low dew points for the early part of June. Both of these factors (i.e., NW winds that are blowing in and low humidity levels) limit the distance a baseball can travel and Bryce Harper learned this first-hand.
The HRFI averaged a 6 for the Phillies/Tigers game and a 5 for the Yankees/White Sox game and both were low-scoring affairs. In fact, it turned out to be a rare 1-0 game played in Philly in just a little over 2 hours.  The one run that did score at Citizen's Bank Park came in the 1st inning on a Kyle Schwarber home run (to right field) at a point in time when the HRFI was a relatively high value of 8. It subsequently dropped sharply during the game as NW winds (blowing in) kicked up in intensity and temperatures dropped. The same weather pattern will bring smoky conditions to the northeastern states for Wednesday's games and with cool, dry air in place, the HRF Index values will be somewhat limited once again suggesting less favorable weather conditions for a ball to travel.
Meteorologist Paul Dorian